AAUW BRANCH SERVICE MILESTONES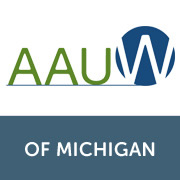 AAUW of Michigan branches are the lifeblood of the state organization.  Since our founding, they have been doing amazing work to help women and girls achieve their dreams.  Whether it's -- Supporting leadership programs like NCCWSL, encouraging girls to flex their science and math skills by Hosting Tech Trek STEM events, Leading awareness discussions on issues like campus sexual assault and Title IX, Conducting public policy forums, Sponsoring competitions like Speech Trek, or Holding book sales and other Fundraising events to support scholarships and other activities, our branches are in Action and committed to the mission of advancing the lives of Michigan women and girls. And, we salute their tireless work.
Michigan branches are precious gems.  In appreciation, we  acknowledge and highlight their length of service represented by a gem stone.  Many branches have surpassed the 25 year marker, and are listed and recognized here. Starting 2017-18 program year, we will highlight only branches reaching 25, 50 and 100+ years of service. Congratulations! Thank you for all that you do for AAUW!
HAPPY ANNIVERSARY!
CELEBRATING 100 YEARS ADVANCING EQUITY FOR WOMEN AND GIRLS!